Helen Brown wasn't a cat person, but her nine year-old son Sam was. So when they went to look at a newborn litter, he managed to convince his mum to get one.
Just a week later, the family was struck by unthinkable tragedy.
Cleo is an uplifting book about love, loss and redemption. It's also about a small black feline who helped heal a family.
"One of the most moving books I've ever read."
— Books Direct, (UK's largest book club)
"An epic, genuinely moving, funny and ultimately uplifting."
— Witi Ihimaera, author of The Whale Rider
"A buoyant tale, heartfelt and open."
— Booklist, US
Cleo
I had no intention of adopting a pet when I took our sons, Sam and Rob, to visit a friend's new kittens. I wasn't even a cat person, but nine year-old Sam was. He fell in love with the runt, talked me into getting her and named her Cleo.
Just weeks later, our family was hit by tragedy. Traumatised, I'd completely forgotten about the new arrival until the little black kitten was delivered to our doorstep.
I was ready to send Cleo back, but when I saw her make Rob smile for the first time since the accident there was no choice. Cleo had to stay.
After hitting best seller lists around the world, Cleo jumped on the New York Times Best Seller list its first week in US bookstores. It stayed on the UK Sunday Times best seller list for several weeks.
It is now in more than 16 languages, and was short listed for prestigious awards in Germany and France.
Cleo appears on the cover of US Reader's Digest Encounters – Today's Best Non Fiction Vol 22 and in South African and Australian editions.
A major motion picture is in development.
"Cleo" – the abridged US Reader's Digest cover "Today's Best Non Fiction vol 22"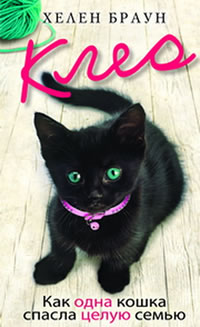 Cleo Russian Book Cover
French Book Cover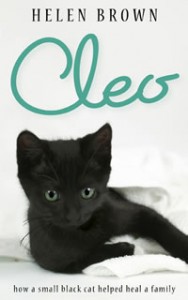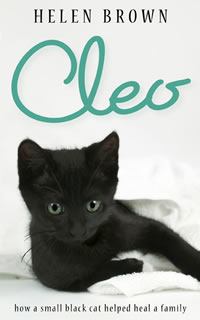 International Version Cover
Australian Version Cover (above)
Portuguese Book Cover
Hodder UK Hardback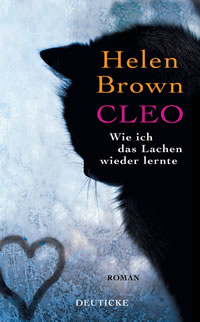 German book cover
Complex Chinese edition (Taiwan)
Cleo Reviews
"Possibly the next Marley & Me, Cleo, by Helen Brown, is an honest and un-mawkish true story of ordinary people rebuilding their lives after a tragedy, with the help of a kitten. Even non cat-lovers will be moved."
— Good Housekeeping, UK
"Lively and admirably unsentimental…a salutary reminder of the gratitude we humans owe to our companion animals."
— Daily Mail, UK
"A buoyant tale, heartfelt and open."
— Booklist, US
"Heart-warming, fun and romantic. Marley & Me fans will love it."
— Closer
"This is an absolute must gift for yourself or a cat-loving friend."
— Cat World, UK
"A heartfelt account of love, loss and faith. Cleo is so beautifully written and with such warmth only someone who adores cats could so accurately describe life with such an extraordinary creature. From the start this is an emotional journey for author and reader."
— Herald Sun, AU
"In the tradition of Marley & Me, this memoir about an impish black kitten teaching a grieving family to love and laugh again is written with warmth and candor."
— Who Weekly, AU
"A warm, poignant tale about the sheer force of a cat's personality and the joy and healing it can bring."
— Australian Women's Weekly, AU
"Brown is an accomplished author and columnist and her professionalism shows everywhere in this harrowing yet redemptive tale of loss and new life."
— Kia Ora magazine, NZ
"Heart warming and life affirming – it's easy to see why it's been on the [Australian and New Zealand] bestsellers list since it was published…"
— NZ Herald, NZ
"A heart-warming, tear-stained ride told with great charm and humor."
— North & South, US
"Die wahre Geschichte über Cleo berührt mit Humor und Ehrlichkeit – und ist weit mehr als ein Katzenbuch: Der Roman gibt Hoffnung, wie man trotz eines tragischen Verlusts weiterleben kann."
(Cleo if full of humour and honesty – and is much more than a book about cats. The novel gives hope that you can recover after a tragic loss.)
— Buch-Wien, Germany
"Cleo ist nicht nur ein Buch uber die Liebe zu der sonderbaren Spezies Katze. Es ist auch und noch viel mehr ein Buch über eine Reise: jene, mit dem Tod eines geliebten Menschen weiter leben zu können. Auch wenn der Roman kein Ratgeber ist, macht er Mut. Mit einer simplen Wahrheit, jener von Helen Brown: Das Leben kann selbst nach dem grössten Schrecken wieder gutwerden. Mehr noch: Wem Schlimmes widerfahren ist, sieht womöglich von da an die Schönheit in jedem Tag."
(Cleo is not just a book for cat lovers. It is, even more, a book about how to live with the death of a loved one… and how life can get better again after a terrible tragedy.'
— Buch-Wien
"To say I found gifts of inspiration, hope, and pure love emanating out of every page would be an understatement…"
— Leukaemia Foundation
"Helen Brown's remarkable memoir took me on a journey that threatened to break my heart, and right when I thought I couldn't possibly bear to read another word, I realized that she didn't break my heart at all – she opened it."
— Beth Hoffman, New York Times bestselling author of Saving CeeCee Honeycutt
"Helen Brown's Cleo is not just a tender story about a cat and a family facing the world again after a family bereavement. It's also an epic, genuinely moving, funny and ultimately uplifting. Don't be surprised to find yourself smiling through tears after reading it."
— Witi Ihimaera, author of The Whale Rider
Lately, I've been on a steady diet of Cormac McCarthy, Shakespeare and Kierkegaard; so when I was given a copy of Cleo, The Cat Who Mended a Family—a book billed as "The next Marley & Me"—I wasn't expecting much. In fact, I was expecting to have fun hating. Halfway through the third chapter I was crying like a baby in a wet diaper. I admit it, Helen Brown kicked my ass. The writing started out good and just got better. Here she ponders her inability to release the grief she still feels for the loss of her firstborn son: "I longed for sorrow to shrivel and sail effortlessly into oblivion. If an autumn leaf could release the memory of summer and float into nothingness, fearless and with such grace, why was it impossible for me?" If you're man enough to read a book about a woman who loses a child, and whose heart is healed by the love of a kitten, Cleo will defy expectations
— Karl Travis, Chico News and Review USA
"One to Watch – Possibly the next Marley and Me, Cleo is an honest and un-mawkish true story of ordinary people rebuilding their lives after a tragedy, with the help of a kitten. Even non cat-lovers will be moved."
— Good Housekeeping, UK
"Cleo would make a worthy addition to professional libraries. It's a book I would loan or suggest to those dealing with significant loss and grief. A book to own, a book to talk about, a book to give someone you care about."
— Mani Mitchell, Counselling Today
"One of the most moving books I've ever read."
— Claire, Editor of Books Direct (Britain's biggest book club)
"This is an absolute must for any cat lover. I loved this book and can highly recommend it as a gift to yourself or a cat loving friend"
— Cat World
"A heartfelt account of love, loss and faith. Cleo is so beautifully written and with such warmth only someone who adores cats could so accurately describe life with such an extraordinary creature. From the start this is an emotional journey for author and reader."
— Anna Mitic, Herald Sun
"Cat lovers will be charmed and amused by Brown's lively description of the imperious way in which Cleo reconfigured a distraught household. Her generous and admirably unsentimental account of Cleo's long life is a salutary reminder of the gratitude we humans owe to our companion animals."
— Jane Shilling, Daily Mail
In the tradition of Marley and Me, this memoir is written with warmth and candour, writes Pamela Prior. An uplifting look at how "an uppity cat" helped heal New Zealand-born Brown after the accidental death of her little boy, Sam. In the tradition of Marley and Me, this memoir about an impish black kitten teaching a grieving family to love and laugh again is written with warmth and candour (Brown finished it as she was recovering from breast cancer surgery last year). Not just for cat lovers.
— Pamela's rating: 4 Stars, Who magazine
"The story of this feline's bossiness, persistence and power over 23 years, written while Brown recovered from breast cancer surgery, makes for a heart-warming, tear-stained ride told with great charm and humour."
— Jillian Devon, North and South magazine
"Even avowed dog people will have a soft spot for Cleo. Brown's story of a family taking shape amid bereavement is well written and moving."
— Shaunagh O'Connor, Weekly Times
"Brown is an accomplished author and columnist and her professionalism shows everywhere in this harrowing yet redemptive tale of loss and new life."
— Kia Ora magazine
 "This book will appeal to a wider audience than just cat lovers. The writing is both honest and affecting. The story will not only appeal to the fans of animal biographies such as Marley & Me and Dewey but also to general biography readers"
— Australian Bookseller and Publisher magazine
"Here at the Foundation, we are very aware of the power of grief and the need for inspiring stories such as this one to renew faith in those who are mourning the loss of a loved one. To say this story touches the very depth of your soul would be understating its power."
— Leukemia Foundation of Queensland Support Services magazine