Some say your previous cat chooses their successor. If so, what in cat heaven's name was Helen Brown's beloved Cleo thinking when she sent a crazy kitten like Jonah?
While dealing with her own mortality and rebellious offspring, Helen learns that cats and daughters don't always come when they're called.
Nominated for the 30 Millions D'Amis Literary Prize, 2013.
"A raw and honest account of family, life-changing events and overcoming setbacks that is poignant and life-affirming."
– Daily Express, UK, March 2013
"A must read. Five Stars."
– The Lady, UK
"I adored this memoir to the point that I could not put it down."
– Kelly McLean, NZ, Book Sellers
Purchase from Retailer
Cats and Daughters (After Cleo Came Jonah) Reviews
"Sequel to Cleo, told with unflinching candor and Aussie-tinged wit… Brown reprises her first book's theme: cats have the power to help heal human suffering. Brown's voice is alternately, and appropriately, lighthearted and solemn."
– Publishers Weekly, STARRED review for CATS & DAUGHTERS

An intimate memoir about one woman and her relationships with her cat and her family.

How do you deal with planning a wedding, being diagnosed with breast cancer and having a daughter who wants to become a Buddhist nun all at the same time? You get a high-strung, high-maintenance new kitten. Or at least this is how best-selling author Brown (Cleo; The Cat Who Mended a Family, 2010) coped with the stresses of her life.

Amusing passages swirl among the details of Brown confronting her illness: "Getting three surgeons to show up in the same operating room at the same time was like arranging for Lady Gaga, Angelina Jolie and Queen Elizabeth II to attend the same charity event."

Meanwhile, her daughter needed time and space to find her own identity in a Sri Lankan monastery.

The author writes eloquently about the bonds that exist between women of all ages, as she criss-crosses the path between caretaker and needy patient.

Woven in between are the antics of Jonah, the new kitten whose existence in the house was questioned from day one; "Jonah hesitated for a moment, as if considering the invitation," she writes. "But he narrowed his eyes and took flight like a trapeze artist, launching himself through the air to land of top of the kitchen dresser….What I hadn't counted on was a berserk kitten hiring himself on top of the upper cabinet. The glasses trembled ominously as he struggled to find his balance. The author amiably recounts the ups and downs of owning a cat and integrating the animal into her life.

For cat lovers, a pleasant and moving story of love and identity among mothers, daughters and felines.
– Kirkus Reviews
"The only thing more worrying than holding cats and daughters close is setting them free," observes Australian journalist and humorist Brown as she shares her experiences with breast cancer, a rebellious daughter, and a rambunctious cat. In this sequel to Cleo, told with unflinching candor and Aussie-tinged wit, Brown's breast cancer diagnosis and surgery coincide with her older daughter, Lydia, leaving for war-torn Sri Lanka to become a Buddhist nun. Meanwhile, a new cat enters Brown's life: a stunning, sapphire blue-eyed neurotic Siamese she names Jonah, whose behavioral baggage includes spraying, running away, and shredding carpet. Her life "ruled by a cat," Brown reprises her first book's theme: cats have the power to help heal human suffering. Brown's voice is alternately, and appropriately, lighthearted and solemn, her vulnerability evident as she struggles with breast cancer and Lydia's lifestyle; Jonah provides love, friendship and is the "[l]istener, healer, the companion who never judged." In a beautiful moment of introspection during a visit to Sri Lanka, Brown understands the futility of holding onto daughters, recognizing that Lydia needs to live her life. Having courageously faced down fear, loss, mortality, and Sri Lanka, Brown realizes she has learned much along the way. (Apr.)
– Publishers Weekly
"Cats & Daughters is delightfully different. Author Helen Brown has a wonderful sense of humor and that shows abundantly here, despite that she writes about scary things mixed with the ubiquitous awww-inspiring pet-and-me stories…This is one of those books you leave on the table so it's handy when you want to return to it – which will be often. Whether your kiddies or kitties have two legs or four, Cats & Daughters is a book you'll pounce on."
– The Bookworm (nationally syndicated column)
"If you're one of the 500,000 who bought Cleo and loved it, you'll be happy to hear her sequel is equally heart-warming and engaging. If you've ever felt like your life is sometimes stranger than fiction then you'll readily identify with the latest update on Helen's life. It's a great reminder of why, even when life is dishing you up a big plate of craziness, there are still blessings to be gained."
– Australian Women's Weekly June 2012
Don't you love it when a book you dearly loved has a sequel?

As a crazy cat lady in the making, I lapped up everything about Helen Brown's first feline-related book Cleo: How an uppity cat helped heal a family. It's the true story of how a little black kitten came into her life after her nine-year-son Sam was tragically killed in a road accident, in front of his younger brother Rob. Spirited, regal Cleo was the tonic Helen and her family needed: her kittenish antics and unwavering companionship see the Brown family through their heartache and many more years of ups and downs too.

So you can imagine my utter glee when I discovered there was follow up.

This one picks up where the first story left off, with Cleo having recently passed on and a vehement Helen rejecting all notions of getting another cat – ever.

It takes a battle with breast cancer to change her mind. While recovering from a mastectomy, Helen's sister spots "the cutest Siamese kitten in the pet shop across town." Despite barely being able to hobble to the car, her adamant no cat stance and a dislike of the breed, it doesn't actually take much convincing to get Helen to the shops. Then the beautiful milk white kitten tinged with shadowy brown, matching ears, tail and feet does all the rest. She writes:

I have always assumed love at first sight was a human-to-human thing, and not something that could occur between a middle-aged woman and a Siamese kitten. But in those few seconds I'd become enraptured. At some sub-cellular level that kitten and I belonged together.

To seal the deal, the sleek and athletic kitten is named Jonah, in homage to our great All Black winger who was hitting the headlines at the time and also to appeal to her rugby mad but not so fond of cats husband, Philip.

Jonah quickly establishes himself as a madcap dervish who wraps the entire household around his little chocolate paw. His antics (and trail of destruction) are the perfect foil for the myriad of stresses Helen faces on top of her recuperation: organising her son Rob's impending nuptials, trying to complete the manuscript for the Cleo book and most worrying of all, daughter Lydia's decision to give up her scholarship at university to become a Buddhist nun in Sri Lanka.

But oh what a delightful read this is! Despite the obviously painful and often trying situations, Helen fearlessly opens up about these physical and emotional hardships and is unflinchingly honest, even when sometimes it means she is cast in a not so flattering light.

Her insights into aging, death and the challenges of motherhood – especially when your beautiful and talented daughter wants to become a nun in a country embroiled in civil war – are warm and sincere. Her wry observations, such as Lydia's penchant for wearing white – the colour of purity – had me snorting with laughter. She writes: "As we watched her float away like a snowflake toward the departure gate, the mother in me thought "What a dreadful colour for stains. I hope she doesn't spill tomato sauce over herself."

And then there's Jonah. Capricious, wily, Jonah with his crazy, demanding ways and clever perceptions into his family's needs that only a feline can have. How I loved him! And when he ends up on kitty Prozac after terrorising the house with prolific territorial spraying, his newly achieved Zen state nearly matches that of the devout and much meditated Lydia.

The epitome of the bitter-sweet memoir After Cleo: Came Jonah is and every bit as charming, funny and heartfelt as its predecessor.

I carried it everywhere I went in the two days it took me to read it, pulling it out whenever I had even just a spare moment or two – that to me is the mark of a great read.

And just as Cleo placed a little paw print on my book loving heart, Jonah did too – in his distinctly more energetic and rambunctious way of course.
– Booksellers, NZ, April 5 2012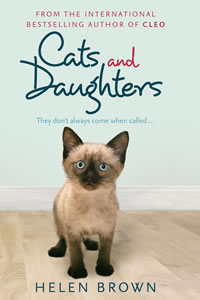 More Reviews
A warm, wise and often funny account of the highs and lows of mother-daughter relationships, the impact of a potentially life-threatening illness, and an often kooky – some might say deranged – cat called Jonah.
– www.femail.com
I can't put down "After Cleo…", what a great read.  "Cleo" has been a good seller here, and I'm sure Jonah will do even better.
– Matilda's Books, Melbourne
A Must Read: "This is a moving account of family life going off the rails, but saved by love and the realisation that by allowing cats and daughters to roam, they'll come home in the end."
– The Lady (UK), Five Stars, April 27 2012
"I adored this memoir to the point that I could not put it down. Very well written, it captured both my heart and my imagination.
I would recommend this book not as a memoir but as a story that you just have to read."
– Kelly McLean NZ Book Sellers April 13 2012
" A warm and wonderful read."
– The Weekly Review
"Helen Brown is an award-winning columnist, writer and broadcast journalist renowned for her candid and intimate style. Her ability to delve into her deepest thoughts and her darkest days with honesty, passion and heart is what has made her an internationally bestselling author. "
– She Said, April 4 2012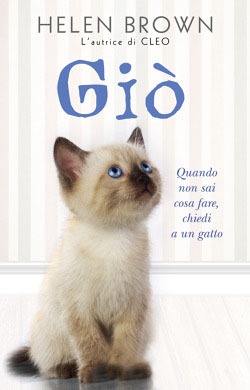 "If Cleo did well, Cats and Daughters will do exceptionally well. It's a wonderful book. I loved it dearly."
– Pat Harding, ABC, Radio Great Southern, Western Australia
Helen Brown's biography Cleo, a heart-rending account of the death of her son and the kitten who helped her family grieve, was a word of mouth hit.
Her latest release, After Cleo Came Jonah, covers another turbulent period, when Brown was diagnosed with breast cancer and her eldest daughter decided to live in a Buddhist monastery in war-torn Sri Lanka. This intimate and candid book has broad appeal.
– Herald Sun, May 13 2012
"A delightful book."
– Bay of Plenty Times, May 10 2012
"Helen Brown has another international best seller on her hands."
– Aussie Book Reviews April 21 2012
"A delightful book. The Reader is drawn into the ups and downs of health – breast cancer and family relationships, especially between mother and daughter."
– Anne McPhail, Rotorua Post
Purchase from Retailer