"It's fabulous. Heaps of laughs, lovely insights, warm and great fun." Sir Roderick Deane.
Purchase your copy now: https://amzn.to/2HJmUaI
Out of Print
Helen's earlier books are out of print and can be difficult to find. They are mostly collections of her newspaper columns. Watch this space though, as we are in the process of making these available in eBook format soon. Sign up to Helen's newsletter to be the first to know.
Florascope
From The Heart
In Deep
A Guide To Modern Manners
Fresh Starts And Finishing Lines
Clouds Of Happiness
Tomorrow When Its Summer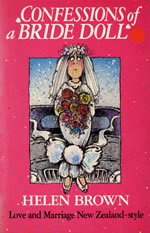 Confessions of a Doll Bride
Don't Let Me Put You Off