Remarkable Times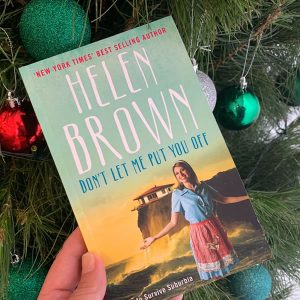 Earlier in the year, I came up with the crazy notion of making 2019 one for "remarkable experiences". Things certainly turned out that way. Thank heavens Jonah was on hand to run my personal and professional life with his usual flair.
It started with the release of an updated and extended version of my first ever book, DON'T LET ME PUT YOU OFF. Revising this cocktail of funny sad/stories from my days as a 70's housewife was more challenging than expected. I can't count the number of times I wanted to tap my 20-something self on the shoulder and tell her to stop being such an idiot. After DON'T LET ME PUT YOU OFF came out digitally, Jonah was deluged with requests for a print version. He obliged, naturally. You can find it floating around on Amazon.
Gorgeous Kate Fennessy has been helping me with social media for several years now, and we've become friends. One chilly winter's day, Kate and I were enjoying lunch at my local pub. Who knows what happened? Maybe it was the prosecco, but by the time we walked out of that place we'd decided to start a podcast called NOVEL THERAPY.
Before we knew it, Kate, Jonah and I were recording regular sessions in my new upstairs study (Jonah apologises for the background meows, and for knocking my microphone over, by the way). I was meant to be helping Kate get her head around writing a novel, but we often ended up talking about broader aspects of life and creativity.
We laughed a lot, and occasionally cried. Kate was incredibly brave when I challenged her to readdress tough emotional stuff from her past. After five-star feedback from listeners all over the world, we'll be starting a new season in February. If you haven't tuned into us already, have a listen.
By far the most emotional event of this year was the release of my first ever children's title, CLEO AND ROB (Allen & Unwin). This is a book I've wanted to write for a long time. When CLEO first came out 10 years ago, I received countless emails from people who had lost siblings when they were children. Many felt their grief hadn't been acknowledged at the time, partly because there were so few children's books on the subject.
CLEO AND ROB retells our story through six year-old Rob's eyes. I hope it will help children understand loss is a part of life, and that through even the worst sadness there's a possibility for healing and renewal.
Exquisitely illustrated by Kiwi artist Phoebe Morris, CLEO AND ROB, introduced me to a range of new readers, from psychologists to policemen. I was deeply honoured when Francis and Kaiora Tipene (The Casketeers of Netflix fame) launched the book in Auckland. There wasn't a dry eye when Kaiora sang a heart wrenching waiata by a woman who had lost her child.
To my surprise, CLEO AND ROB became a bestseller in New Zealand, but I was anxious for feedback from kids themselves. I worried the subject matter might be too challenging for them. Watching my friend, Rev Ian Turnnidge, read the book to school children on Phillip Island for the first time, I was enormously impressed by their engagement and the emotional maturity of their questions. It seems kids are more than ready to talk about hard stuff, and to develop empathy for others.
Anyway, Jonah tells me it's time to stop typing and top up his food bowl.
Thanks for your friendship and kindness through a remarkable year.
I hope you opt for a laid back festive season (it can be done, you know).
Wishing you a fabulous 2020.
Warmest wishes,
Helen.