Life's going down the gurgler for Lisa Trumperton. The deadline for her next novel is looming, her daughter's being difficult, and now her Wall Street trader husband has run off with a woman at work.
Richly observed and laugh-out-loud funny, Helen Brown's first foray into fiction, Tumbledown Manor, is for anyone ready for the makeover of a lifetime.
.
.
.
.
Tumbledown Manor Reviews
I've put together some of the first reviews for Tumbledown Manor…
"Through all of the challenges Lisa faces, she continues to find the positives in her life, and readers will be inspired to see her grow. Tumbledown Manor is a fun read that will leave readers with a warm glow."
San Diego Book Review  4 Stars
"I absolutely loved this book. It's a little creepy in a fun way at first when the windows rattle, the roof leaks, strange critters come around but it was a joy to read."
Night Owl Reviews  5 Stars
 "Addressing all-too-common mid-life catastrophes, Brown gives inspiration to women with her witty, adventurous story. Her delightful account of one woman's struggles after divorce and relocation around the world will bring laughter and warmth to her readers. Brown has a unique ability to bring life to her characters, painting a picture with her words."
RT Book Reviews, 4 Stars
"Brown, author of best-selling memoirs Cleo and Cats and Daughters, writes with empathy and humor in her first novel, about finding new love and purpose in middle age."
Booklist
 "A great story about starting over and proving that no matter what, sometimes, you can go home again."
cayocosta72
Staff Pick. Kensington Publishing.
REVIEW BY MICHAELA HAMILTON, EXECUTIVE EDITOR
What happens when you pick up Helen Brown's new novel, Tumbledown Manor?  In my case you grab it and head for a comfy spot where you can relax and enjoy a few hours of delightful reading – preferably with a feline companion. Belle Amie, my fluffy white calico, and I settled onto the bed with great anticipation.  Before long we were grinning and nodding (me) and purring (her) as we cuddled in the glow of Helen's storytelling skills and wit.  Full disclosure:  I admit this wasn't my first time reading the book.  I am, after all, Helen's American editor, so I was privileged to be among the first to read her novel as a manuscript.  I rarely have time to read a finished copy of a book I've worked on.  But I knew Tumbledown Manor would be the exception – a book I loved so much, I just had to experience it afresh in its enticing printed form.  Guess what – it was just as good as I remembered it!  Helen's engaging voice brings to life an irresistible story of a woman bravely setting out to renovate an old family home – and her life. Give it a try, won't you? The feline companion is optional, but highly recommended.  Just settle in and enjoy.
"A rollicking novel, a jolly good read."
Edwina Hall.
The Weekly Times.
"Delightfully written, very charming and laugh out loud funny. Recommended."
Shandelle Battersby
Weekend Herald
Auckland.
"Buy this book, save it for the holidays and then read it under a tree or at the beach."
Tina White
Manawatu Standard
"Tumbledown Manor rollicks along, mostly with tongue in cheek.
Brown has drawn on a few of her own life experiences for this novel, which does touch on some wide-ranging and quite serious themes.
Once you finish the book, however, you realize how deft and light the handling of these has been, never detracting from the pleasure of the story.
Buy this book, save it for the holidays and then read it under a tree or at the beach."
Tina White
Manawatu Standard
"This is certainly a book that needs to be finished to be really appreciated. Like life in a tumbling down manor in Australia you will find it will throw the unexpected at you and teach you a few of life's lessons."
Jo Hills, Daily News
"I read it fast. I laughed aloud a couple of times (which happens a lot in real life but rarely when I am reading).
It's upbeat and happy and it's an enjoyable read. Perfect for a hot summer with a cold drink. I think Brown has invested a lot of herself into the pages of the book and I really like the interiors aspect of the novel – doing up houses is fun when you don't have to invest any elbow grease!"
Faith Hope Inspire blog spot
Newstalk ZB Tumbledown Manor review by Kerre McIvor

"What a satisfying story this is! Laced with humorous lines and very human parenthood blunders, the story relates how Lisa's life is about to undergo radical changes………what more could a reader want." 
Bluewolf reviews.
"Engaging and enjoyable. A recommended read."
Joanne Taylor Latitude Review
Below is a review from the German Radio Station Radio Arabella
Monis Buchtipp: Glück mit kleinen Fehlern
Ausgerechnet am fünfzigsten Geburtstag von Lisa Katz stellt sich durch eine falsche Blumenlieferung heraus, dass Lisas Ehemann eine Geliebte hat. Lisa entschließt sich, New York hinter sich zu lassen und nach Australien zurückzukehren.
Dort erwirbt sie das Anwesen ihrer Vorfahren: Trumperton Manor. Als es schon beim ersten Unwetter durch die Decke regnet, kommt ihr Scott, der Gärtner, zu Hilfe. Und obwohl Lisa das Kapitel Männer für beendet hält, gelingt es ihr nicht, seinem Charme zu widerstehen.
Helen Brown ist eine großartige Erzählerin, die zu vermitteln weiß, dass private Katastrophen der Weg zum Glück sein können – mit dem einen oder anderen Umweg.
Bay Of Plenty Times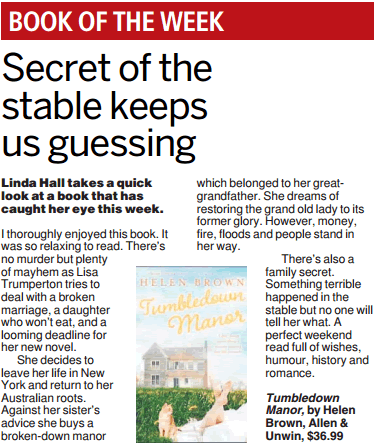 Ballarat Courier
Weekend Herald – Auckland